In this post, Catherine Laverty, a PGR from the School of Psychology, tells us about her experiences of open research and the ReproducibliTea initiative.
Back in early 2020 I was approaching the midpoint of my PhD (and as it turned out the start of a global pandemic!) and found myself in a place where I was questioning how to make sure my research was as rigorous and open as possible. I had heard of the open science movement and seen various bits of advice on twitter about how to be a better scientist but in all honesty had no idea where to start. I knew the replication crisis was on the horizon and wanted to make sure I was doing my upmost to make positive steps towards good scientific practices but was admittedly a little lost.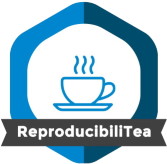 Around the same time, I began to speak to two other early career researchers (ECRs) that were in exactly the same position – Mahmoud Elsherif & Sonia Rishi. Together, we decided to navigate the landscape of open science and establish the University of Birmingham's ReproducibiliTea Journal Club as a place where others could join and learn alongside us.
Continue reading

"ReproducibiliTea at the University of Birmingham: Embracing Open Science in Lockdown!"