In this post, Catherine Laverty, a PGR from the School of Psychology, tells us about her experiences of open research and the ReproducibliTea initiative.
Back in early 2020 I was approaching the midpoint of my PhD (and as it turned out the start of a global pandemic!) and found myself in a place where I was questioning how to make sure my research was as rigorous and open as possible. I had heard of the open science movement and seen various bits of advice on twitter about how to be a better scientist but in all honesty had no idea where to start. I knew the replication crisis was on the horizon and wanted to make sure I was doing my upmost to make positive steps towards good scientific practices but was admittedly a little lost.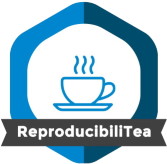 Around the same time, I began to speak to two other early career researchers (ECRs) that were in exactly the same position – Mahmoud Elsherif & Sonia Rishi. Together, we decided to navigate the landscape of open science and establish the University of Birmingham's ReproducibiliTea Journal Club as a place where others could join and learn alongside us.
First, a little more about what open science is. Open science is an umbrella term that aims to promote transparency and accessibility at every part of the research process. Practices such as preregistration, pledging to make anonymized data and code freely available and all research outputs open access where possible are all ways in which we can promote better scientific practices. Although adopting these principles as an ECR may seem daunting at first, embracing them alongside other ECRs certainly makes the process a lot less scary.
This is where ReproducibiliTea comes in; it's a grassroots initiative that is completely run by and for ECRs. The first journal club was set up at the University of Oxford back in 2018 and three years on, journal clubs can be found at 122 institutions across 25 different countries! Attending the sessions (especially during a global pandemic!) has really helped me gain a sense of community from people I have never actually met.
At ReproducibiliTea Birmingham we meet twice a month virtually via Zoom (although we hope this will transition to eventually being in person with lots of tea and cake soon!). We're fast approaching the club's one year anniversary and are so proud of the community we have established and growth we have all made as scientists. Members currently work across Psychology, Linguistics and Neuroscience and we are always looking for ways to get other disciplines involved! The sessions are very informal, usually a paper is sent round at the start of a week that someone will walk us through when we meet, and we'll spend most of the hour having an extended group discussion. The sessions are a place where ECRs can express their opinions about the particular research topic, but also wider issues which can be very cathartic!
If you'd like to get involved, get in touch via email, Twitter or LinkedIn – we would love to have you join us! You can also check out our OSF page for this term's schedule and all our past presentations with lots of information on how we can move towards being better and more open scientists.
After all, as Richard Feynman says:
The first principle is that you must not fool yourself – and you are the easiest person to fool.